On Saturday May 12 we held our first major event for the 2012 Election Campaign. The campaign kick off involved fantastic performances, a special guest, a very droll MC, speeches from each of the council candidates, a high stakes raffle and, as ever, delicious food and drinks.
On the night we were entertained by the wonderful Tapestry tap dancing troupe and the very charming Gogo and Deedee who won the whole crowd over with a song especially for us Greenies. We were very lucky to have Jan Barham, MLC NSW Upper House, come down from Byron to give a speech about her career and the importance of Green governance. And each of the Newcastle Greens candidates spoke on about their individual campaigns and about the significant need for more Greens on Newcastle council.
John Sutton, mayoral candidate and candidate for Ward 4, spoke about the challenges that Newcastle Greens face in changing the face of Newcastle council.
Therese Doyle, candidate for Ward 2, spoke about what the Greens represent in Australian politics, Green principles and some of the specific challenges of her ward.
Keith Parsons, candidate for Ward 3, spoke about his particular passions in politics and council work as well as the specific concerns of Ward 2.
Michael Osbourne, Candidate for Ward 1, spoke about the positive things that Greens on council have achieved and the importance of a progressive council for the future of Newcastle.
There are a lot of people to thank for the hard work put in to such a great night. Special thanks go to Claire and Megan for organizing the kick off for this campaign; to their partners Andrew and Benno for helping with the set up and working the bar; to Hannah Gissane for being our wonderful MC; to Mitchell Lee and Jo McGregor for photographing and filming the event; to The Royal Exchange for hosting us and to everyone who attended and helped make the night a success.
Watch our 2012 Council Candidates speak about the effects and importance of Green Governance.
Have a gander at some social snaps and videos from the night below.

Upstairs at The Royal Exchange


Ian McKenzieMichael Osbourne, Rochelle Porteous, May of Leicharrdt and partneer Aurieleo and Councilor Michael Osborne


Jan Barham, Paul Hodge and Cathy Burgess


Carrie Jacobi, John Sutton, Jan Barham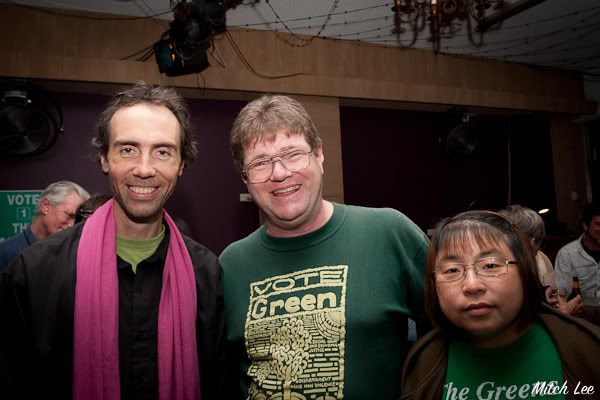 Paul Spencer, Greg and Tiffany Heathcote


Jo McGregor, Salome Halle and Sharon Witt
Check out more images on our facebook page
Jan Barham speaks at the kickoff.

Watch the wonderful Gogo and Deedee dedicate a song to greenies.